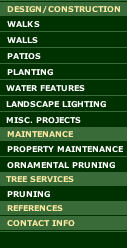 April is the Month to...
Incorporate organic matter into garden soil in preparation for planting. Soil rich in organic matter is a hedge against drought. If soil is poorly drained and still wet, wait until it is workable. Test soil workability by picking up a handful and squeezing - it should crumble apart with gentle prodding.
Plant peas and leafy greens as soon as soil conditions permit. These vegetables are not affected by light frosts. In fact, good soil drainage is more relevant to the success of early plantings of cold hardy crops than is temperature. Using raised beds is one way to ensure good drainage (incorporating organic matter is another way).
Start seeds of tomatoes early this month. Studies have shown that tomato seedlings which are 5 to 8 weeks old when transplanted provide the best growth and highest yields of fruit. Start pepper and eggplant transplants now as well.
Thin seedlings started indoors by cutting off the little plants with scissors at ground level rather than by pulling them up and disturbing the remaining seedlings. Also, give leggy onion seedlings a "haircut" - trim back the shoots to a height of about four inches. Trimming will result in stockier seedlings which will be easier to transplant.
Earth Day is April 22. Make a point of using environmentally friendly gardening practices. In the vegetable garden, employ pest management methods such as hand-picking, encouraging natural predators, and treating with bio-rational pesticides.
Keep an eye out for adult lily leaf beetles foraging on lilies just emerging from the ground. The beetles, each about 1/2" long with a very bright red body, and black legs, head antennae, and undersurface, are easy to spot as they move around on plants. Hand-pick and destroy and beetles as you find them.
Cut down the stems of plants in perennial borders that were not cleaned up last fall. For extensive borders, consider using a weed trimmer to make quick work of the job. Tougher ornamental grass stems may require a brush cutter.
Apply a small amount of balanced fertilizer around spring flowering bulbs, when bulbs are in bloom. This will promote green foliage and encourage vigorous root development, both necessary if the plants are to replenish the food consumed during flowering.
Begin planting hardy herbaceous perennials and woody ornamental plants. Be sure that none of your purchases include species that are invasive. For a list of invasive plants in the state, go to www.massnrc.org/mipag/invasive.htm.
Plant roses where they will receive 6 to 8 hours or direct sunlight. Soak the roots of bare root roses in a pail of water for about an hour prior to planting.
Monitor emerging leaves on maple, oak, apple and cherry trees for winter moth caterpillars, pale green larvae with a faint white stripe running down both sides of their bodies. Bacillus thuringiensis subspecies kurstaki is an environmentally friendly treatment for these pests.
Find a place in your yard for the 2011 Perennial Plant of the Year, Thread Leaf Blue Star (Amsonia hubrichtii). Hardy to zone 4 and adapted to a wide range of soils, it produces clusters of light blue star-shaped flowers in spring, displays feathery fern-like foliage in summer, and puts on a color show in fall as its leaves turn golden yellow. Thread leaf blue star grows best in full to part shade and is rarely bothered by pests or diseases.
Plan to seed new lawns or reseed bare spots as early as possible this spring. New grass will establish itself quickly when the weather is cool and moist.
---
Tree Services
Rudy's Tree offers
tree pruning
.
Design/Construction
Rudy's Tree offers several different design/construction options ranging from
walks
,
walls
,
patios
and
planting
.
Maintenance
Is your lawn or yard starting to look its age? Rudy's Tree offers regular maintenance programs including
lawncare
and
ornamental pruning
.