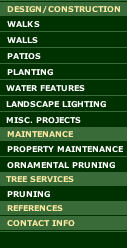 Managing Crabgrass Without Herbicides:
What Changes in Management and Budget Need to be Considered?
Recently there has been an increase in the number of requests for crabgrass control strategies which do not use preemergence or postemergence herbicides. Unfortunately, there is no single, easily stated answer and a silver bullet does not currently exist. However, there are several components of a turf management program that can be adjusted to aid in the control of crabgrass. While implementing some of these management strategies will result in little change in the overall management system, others may result in appreciable changes in the budget due to additional labor, equipment and materials.
When exploring non-herbicidal management options for crabgrass, attention should be focused on implementing cultural practices that result in a healthy, dense turf. Successful execution of many of the commonly used cultural practices can significantly increase the inherent competitive nature of turfgrass and result in a decrease in the severity of many crabgrass infestations.
Crabgrass seeds require light for germination and establishment. Increasing the mowing height will result in a decrease in the amount of light reaching the soil surface and can reduce the germination and establishment of crabgrass. This is particularly important in the spring and early summer during the peak germination period of the species. Decreasing the height of cut and collecting clippings that contain seedheads during the late summer and early fall can be effective in reducing the amount of viable seed that is added to the seed bank.
Tree Services
Rudy's Tree offers
tree pruning
.
Design/Construction
Rudy's Tree offers several different design/construction options ranging from
walks
,
walls
,
patios
and
planting
.
Maintenance
Is your lawn or yard starting to look its age? Rudy's Tree offers regular maintenance programs including
lawncare
and
ornamental pruning
.