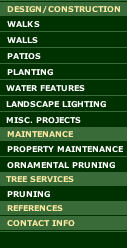 Drought Affects on Trees
The National Arborist Association has released on alert that drought is having on trees in the Northeast. This information is certainly applicable to many parts of New England.
Recent drought conditions through out the country have created serious challenges for natural vegetation, including trees. The National Weather Service's "Long Lead" forecast for 1999 predicts that most of the country will continue to have normal to above normal temperatures with normal to below normal rainfall. For many regions in North America, this means a continuation of drought conditions, with no relief in sight.
The lack of rain showers and high temperatures is sure to create more hardships for trees. Water is requires for all biological processes of plants, trees, and even people. When there is an adequate supply, water seeps down though the soil, gradually saturating each layer. Trees depend on water and moisture in the upper layers of soil - usually the top 6 to 18 inches where the root system is located. Water that seeps beneath the upper layers eventually becomes available for use by people as well water. In severe drought conditions, more water is required to keep the upper layers of soil moist.
The first sign of water stress in large shade trees is a flagging, or wilting of foliage. It can be difficult to notice. Next the leaves become "scorched" as they gradually curl, become dry at the edges, and begin to die. Eventually, trees will drop their leaves in an attempt to "save" themselves. It is important to remember that defoliated trees are weakened, but not dead. Many trees are subject to attack by secondary organisms and proper arboricultural care will be required if these trees are to survive.
Tree Services
Rudy's Tree offers
tree pruning
.
Design/Construction
Rudy's Tree offers several different design/construction options ranging from
walks
,
walls
,
patios
and
planting
.
Maintenance
Is your lawn or yard starting to look its age? Rudy's Tree offers regular maintenance programs including
lawncare
and
ornamental pruning
.