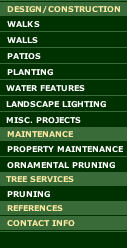 Gardening During Drought
Water has become a critical problem for mmost Massachusetts communities. As the population and the amount of water used per person continues to increase, and with a continuing deficiency in precipitation, the problem will become more acute. Many towns have already imposed restrictions on outdoor water use. Citizens should be aware of the seriousness of the situation and strive to conserve water at every opportunity. Here are some suggestions for making the most efficient use of limited water supply. For more information, go to www.umassdroughtinfo.org.
General practices to conserve water and prepare for dought:
Select drought resistant plants and varities.
Work organic matter into the soil.
Mulch plants.
Capture water in rain barrels and cisterns; cover top with mosquito neting.
Use gray water.
During a water ban, don't prune, fertilize or apply pesticides.
Trees and Shrubs:
Once established, trees and shrubs generally need less water than other plantings.
Avoid heavy feedings; large leaves means more transpiration.
Waters slowly, deeply and infrequently such as at 10-14 day intervals.
Mulch plants. Add a 2-3 inch deep layer of bark mulch. Do not put mulch against trunks.
Apply antitranspirants; read label before applying.
Apply water deeply to newly planted rees and shrubs. Water should penetrate to a soil depth of 10-12 inches. Make additional applications at one week intervals if no rainfall occurs.
Use drought resistant plants, burlap or lath wind breaks and shading.
Next Page >>

Tree Services
Rudy's Tree offers
tree pruning
.
Design/Construction
Rudy's Tree offers several different design/construction options ranging from
walks
,
walls
,
patios
and
planting
.
Maintenance
Is your lawn or yard starting to look its age? Rudy's Tree offers regular maintenance programs including
lawncare
and
ornamental pruning
.