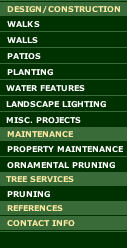 Hemlock Wooly Adelgid Threatens East Coast Forests
The best strategy for control is to spray twice per year, either in early April and late June, or, late September and early June. Either of these strategies will maximize the effect on both generations while minimizing insect immigration. Horticultural oils will also help to control red spider mites, which are commonly found on hemlocks, and can cause severe damage.
To determine if your Hemlocks are infested with HWA check the foliage between March and April for small cottony masses. These are osviacs, which surround the eggs and are readily apparent to the casual observer. Osviacs may also be apparent for a brief period in June and July prior to the hatching of the second generation.
Tree Services
Rudy's Tree offers
tree pruning
.
Design/Construction
Rudy's Tree offers several different design/construction options ranging from
walks
,
walls
,
patios
and
planting
.
Maintenance
Is your lawn or yard starting to look its age? Rudy's Tree offers regular maintenance programs including
lawncare
and
ornamental pruning
.