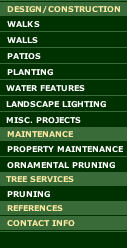 Hydrangeas for Every Garden
If you mention the plant Hydrangea to a clent it can bring to mind many of its various forms. The beautiful blue Hydrangeas seen in summer blooming profusely on Cape Cod or in other coastal areas is the most familiar form. The Pee Gee tree seen in older gardens and cemeteries are also very familiar. More enlightened clients might be familiar with the climbing form, Hydrangea anom. petiolaris, and its richly textured form beautiful in all seasons. Oakleaf Hydrangea is another form becoming more familiar to gardeners and this is reflected in the greater number of cultivars available. Each year brings more and more choices of his varied genus to the marketplace, and gives designers a chance to use some form of Hydrangeas in every garden.
Hydrangea arborescens, native to the Appalachian Mt. areas of the U.S., and it's most popular cultivar, 'Annabelle' are a great choice for colder gardens, as they flower on new growth and are somewhat shade tolerant. The large white flowers are quite showy, especially when lighting up a darker corner of the garden.
Tree Services
Rudy's Tree offers
tree pruning
.
Design/Construction
Rudy's Tree offers several different design/construction options ranging from
walks
,
walls
,
patios
and
planting
.
Maintenance
Is your lawn or yard starting to look its age? Rudy's Tree offers regular maintenance programs including
lawncare
and
ornamental pruning
.