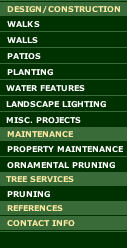 Irrigation Systems & Trees
Benefit to Trees
The increased use of underground irrigation systems, including the growing use of the drip-irrigation method, has greatly expanded the variety of plant materials that can be used in the community landscape. In addition to turfgrass, shrubs and trees can benefit through the use of a well-designed and operated irrigation system. Irrigation of trees should be a component of a good Plant Health Care plan and should be considered when developing a strategy for the care and maintenance of trees growing in any landscape. Since drought stresses are often cyclical in many regions of the country, their occurence should be planned for during the development of any tree management strategy.
Lack of moisture is one of the more severe problems that affects trees growing in a landscape. Trees growing in urban conditions are often more susceptible to this damage due to reducded soil volumes, poorer soil structure and desiccation. However, trees in and landscape need adequate moisture to survive, and underground irrigation systems can enhance the opportunity for survival. Irrigation of trees can provide benefits that lead to healthier trees which are more able to withstand other stresses such as insect and disease infestations that might occur. Reducing drought stress through the proper use of an irrigation system can greatly enhance the likelihood of newly planted trees reaching maturity and can provide older trees with a consistent source of moisture, even during droughty periods.
Damage to Trees
While underground irrigation systems can provide a useful benefit to establishing and growing trees in the landscape, often the installation and improper use of these systems leads to serious tree health issues. Root damage and overwatering are the most common problems associated with underground systems that are installed to irrigate trees or turfgrass.
Next Page >>

Tree Services
Rudy's Tree offers
tree pruning
.
Design/Construction
Rudy's Tree offers several different design/construction options ranging from
walks
,
walls
,
patios
and
planting
.
Maintenance
Is your lawn or yard starting to look its age? Rudy's Tree offers regular maintenance programs including
lawncare
and
ornamental pruning
.