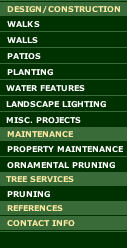 Put Mulch To Work In Your Landscapes
With the onset of spring, property managers and associations turn their attention to grounds maintenance. Few landscape practices have the dramatic visual effect of mulching.
The choices available today are numerous, from shredded pine bark or hemlock bark to bark nuggets, cocoa or buckwheat hulls, pine needles, wood chips and peat moss.
Yet for all its curb appeal, mulching performs many horticulturally-correct functions. A proper initial layer of two to four inches of mulch material retains moisture in the soil for root uptake, which can reduce the frequency and duration of water cycles, and suppresses weed germination, thereby reducing herbicide requirements.
Contrary to some beliefs, mulching doesn't warm the soil; it evens out temperature fluctuations. This reduces root hair damage from the freeze-thaw cycles. The natural breakdown of mulch by climatic and soil microbe action enhances the soil by the addition of organic matter. This, in turn, creates a soil environment more conducive to nutrient and moisture retention. This natural breakdown gives rise to the only detriment or proper mulching: The decomposition by microbes depletes the soil of nitrogen. A regular fertilization program should be instituted utilizing a tree or ornamental shrub fertilizer. This benefits both the plant and soil environments.
Tree Services
Rudy's Tree offers
tree pruning
.
Design/Construction
Rudy's Tree offers several different design/construction options ranging from
walks
,
walls
,
patios
and
planting
.
Maintenance
Is your lawn or yard starting to look its age? Rudy's Tree offers regular maintenance programs including
lawncare
and
ornamental pruning
.