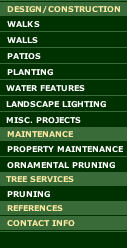 Improved Tree Guidelines
Many newly planted trees meet an untimely demise because of improper planting techniques. Placing a tree's root ball too deep in its planting hole is often the culprit. Over the past 10 to 15 years, thanks to university and horticulture trade research, improved planting tree guidelines have been developed that show how to plant trees correctly. These guidelines are not difficult to understand, but they may be different from the way most people learned to plant trees.
In the past, it was widely thought that a tree had a deep root system confined within the drip line. Research now shows that trees have horizontally branching root systems that stay within the top 3 feet of soil; 60 percent of the root system, however, spreads beyond the drip line. Consequently, it is better to plant a tree in a hole that is wide rather than deep.
Also, remember that newly planted trees require supplemental water to avoid transplant shock, so water deeply on a weekly basis throughout the growing season. Following these guidelines will ensure your newly planted tree a healthy start.
Tree Services
Rudy's Tree offers
tree pruning
.
Design/Construction
Rudy's Tree offers several different design/construction options ranging from
walks
,
walls
,
patios
and
planting
.
Maintenance
Is your lawn or yard starting to look its age? Rudy's Tree offers regular maintenance programs including
lawncare
and
ornamental pruning
.