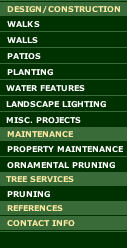 Treegator™ Watering System
During the spring of 2005, there was an abundance of rain and most of our lawns and trees got off to a solid start, but the summer was very dry and hot. As of the end of August, the Boston area was about 7 inches below normal for precipitation and, while we can expect to have some heavy rain as a result of the late season storms, many of our trees, especially new transplants, will benefit from planned irrigation.
Water is required for all biological processes of plants, trees and even people. When there is an adequate supply, water seeps down through the soil, gradually saturating each layer . Trees depend on moisture in the upper layers of soil - usually the top 6 to 18 inches where the root system is located. In severe drought conditions, irrigation is required to keep the upper layers of soil moist.
The first sign of water stress in large shade trees is a flagging, or wilting, of foliage. It can be difficult to notice. Next, the leaves become "scorched" as they gradually curl, become dry at the edges, and begin to die. Eventually, trees will drop their leaves in an attempt to "save" themselves. It is important to remember that defoliated trees are weakened, but not dead. Many stressed trees are subject to attack be secondary organisms and proper arboricultural care will be required if these trees are to survive.
Tree Services
Rudy's Tree offers
tree pruning
.
Design/Construction
Rudy's Tree offers several different design/construction options ranging from
walks
,
walls
,
patios
and
planting
.
Maintenance
Is your lawn or yard starting to look its age? Rudy's Tree offers regular maintenance programs including
lawncare
and
ornamental pruning
.