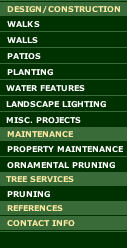 Using Mulch in Managed Landscapes
Mulches have many benefits and are broadly categorized as inorganic or organic. Inorganic mulches offer the advantage of low maintenance; crushed stone and gravel are probably the most commonly used. The use of landscape fabrics as weed barriers has increased in recent years. A layer of mulch is often placed over landscape fabric to improve aesthetics and to slow degradation of the fabric from exposure to light. Other inorganic mulches, such as plastic sheeting and recycled tire chips are not commonly used in ornamental landscapes.
On the organic side, there is a tremendous variety. Historically tree bark has been the most popular material for use in ornamental landscapes. Materials available for use as mulch have changed considerable in recent years due to efforts to divert solid wastes from landfills. Commercial sales of mulch generated from recycled wood pallets, which are ground and painted in natural or designer colors, have increased rapidly in recent years. Yard trimmings are increasingly recycled and composted by municipalities for use as mulch and soil amendments. Composted sewage sludge and manure, which can be blended with coarser products such as wood chips, are also increasingly available for use as mulch.
Conservation of soil moisture and moderation of soil temperature are key benefits of mulching. Both organic and inorganic mulches increase soil moisture by slowing evaporation. As a result, mulch can increase water availability and decrease moisture fluctuation in the root zone. Organic mulches also can increase the water holding capacity of sandy soils by increasing their organic matter content as they decompose. Multi- year research at the Morton Arboretum and Cornell University found that mulching with wood chips increased soil moisture and root growth. Similar studies conducted on disturbed roadside soils in North Carolina and Illinois demonstrated that mulching increased foliage development of recently transplanted trees and shrubs. Mulching does not guarantee increased growth, however. Increased water retention can be a double-edged sword. In heavy soils, where drainage is a problem, mulch can prolong saturated conditions, especially during spring, which can harm plant roots and favor root rot diseases. Partially decomposed mulches actually improve water infiltration and drainage of heavy soils by increasing their organic matter content and tilth.
Tree Services
Rudy's Tree offers
tree pruning
.
Design/Construction
Rudy's Tree offers several different design/construction options ranging from
walks
,
walls
,
patios
and
planting
.
Maintenance
Is your lawn or yard starting to look its age? Rudy's Tree offers regular maintenance programs including
lawncare
and
ornamental pruning
.