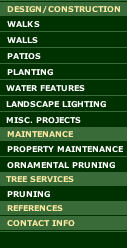 Protecting Trees and Shrubs in Winter
Throughout the winter, trees and shrubs in landscapes are subject to many pressures that can result in damage or death to plants. Among these are damage resulting from snow and ice, and by animal browsing. The following is a discussion of some of the steps that can be taken to protect woody plants from potential damage from these winter related problems.
Snow and Ice Damage. The accumulation of snow and ice on the branches of trees and shrubs adds considerdable weight to limbs, often causing them to break. This breakage is more likely to occur where plants are exposed to strong winds. Furthermore, snow and ice falling from roofs, as well as snow tossed onto plants by passing plows or snow blowers, are just as much of a problem as that accumulating on plants from natural snowfall. Therefore, when designing landscapes it is important to consider placement of plants relative to expoisure to wind, proximity to roof overhangs, and streets or roadways.
Tree Services
Rudy's Tree offers
tree pruning
.
Design/Construction
Rudy's Tree offers several different design/construction options ranging from
walks
,
walls
,
patios
and
planting
.
Maintenance
Is your lawn or yard starting to look its age? Rudy's Tree offers regular maintenance programs including
lawncare
and
ornamental pruning
.