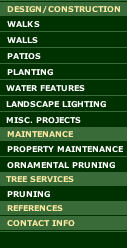 Reference from Tom Engel
I contacted Rudy's through an advertisement to create a large brick patio and provide gardening and landscaping services. I was immediately treated like a valuable customer before even having a contract in place. From the office staff to the workers who came provide the services I was treated professionally and courteously. My primary contact was Mark (Piantedosi) who demonstrated superior knowledge of his business and provided expert opinions and excellent services. My wife and I had interviewed several other contractors but immediately knew that the job would get done correctly, on budget, and as scheduled if we used Rudy's. The work exceeded our expectations at a cost competitive with that of any other company. Now that spring has come we can really see that our decision to use Rudy's was the best decision we could have made.
Tom Engel
Bedford
<< Return to the References Main Section.