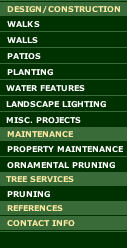 Reference from Laura Kuhn Design Construction
With Rudy's, I always feel confident that they install a landscape with attentiveness to detail, sound construction techniques and a thoughtful eye. All designers want this combination of skills in an installation contractor. It means my designs will be sensitively and carefully constructed, and they're built to last! Whether regarding plans of masonry, above or below grade construction, lighting or the many aspects of property maintenance, I trust their work.
Laura Kuhn
Laura Kuhn Design Consultation
<< Return to the References Main Section.