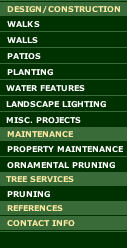 Reference from Nancy and Gregg Savage
After a short hiatus, we are thrilled to have Rudy's Tree and Landscape Service back as our lawn, gardens and tree service company. We rely on Rudy's professional staff to advise and to perform all manner of lawn maintenance, and garden upkeep. The staff are punctual, meticulous, knowledgable, friendly and always smiling! They really know their business, from the head of the company to the staff that comes week after week. While they do consult with us as needed, they also operate autonomously - if something doesn't look right, they fix it. We don't have to track them down. We have had tree removal, tree planting, garden design, raised beds built, gardens maintained and all manner of services that has helped us to have a beautiful yard. We appreciate the excellent work that they do! They come with our highest recommendation.
Nancy and Gregg Savage
Acton
<< Return to the References Main Section.